Our Philosophy
A simplified approach to skincare.
Dr. Loretta, one of the most passionate dermatologists in her profession, has dedicated her career to understanding why our skin ages and how we can incorporate effective products into a simplified skincare routine. Through over 40 years of working with patients directly, she's designed a realistic set of products with a deep understanding of the struggles, frustrations, and dreams we all have for our skin.
The science of skincare can be confusing, but we're here to help. We believe in simplified skincare that gives you exactly what you need and protects you from what you don't.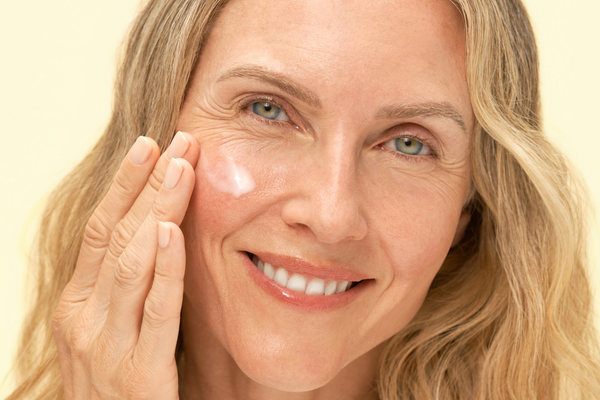 Our Belief
Real skin is amazing skin.
We're skincare realists. We believe you should feel confident and happy in your skin — no matter what phase of life you are in. We believe that taking care of your skin is one of the most rewarding practices of self-care because when you feel your best, you can be the best version of yourself.
Exposed vs. unexposed skin.
As a board-certified dermatologist for over 40 years, Dr. Loretta Ciraldo has performed tens of thousands of total body exams and continues to see such a remarkable increase of damage in skin exposed to the world (like your face!) compared to the skin protected by clothing (like your lower back).

As no other skincare line on the market was designed to holistically address the external factors mostly responsible for these changes, she created one herself.
The Four Factors.
Dr. Loretta's approach to skincare formulation is rooted in the skin aging exposome theory. This explains that at least 80% of unwanted skin changes are from exposure to real-world environmental aggressors & other influences, including stress, nutrition and sleep patterns. Every Dr. Loretta product is formulated with high concentrations of proven actives and effective botanical ingredients to address four key damaging factors we face each day:
Outdoors and indoors
Indoor pollution is caused by exposure to paint, plastics, cooking, dust mites and more. Outdoor pollution comes from cars, power plants, construction, dust,​ and fires. Exposure can lead to rough skin texture, fine lines, wrinkles and age spots.